Project Overview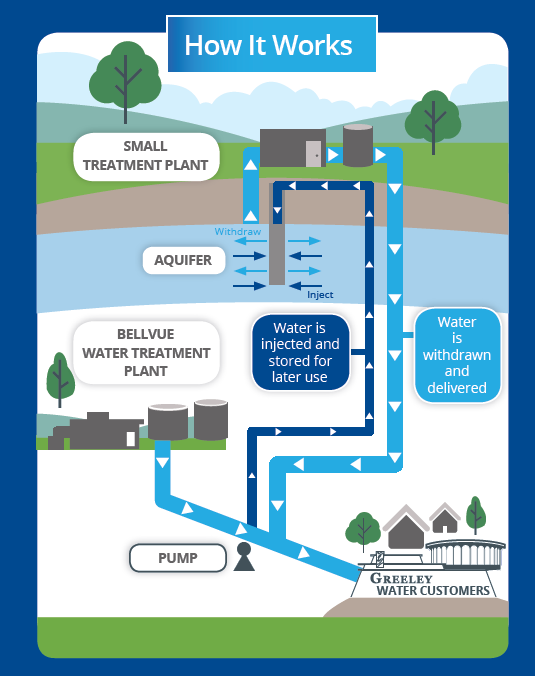 The proposed Terry Ranch Water Project is an innovative water supply and storage project being considered and evaluated to help fulfill the water needs of Greeley's growing population. If ultimately determined feasible and approved by the City of Greeley Water Board and City Council, this generational project will be another step forward to ensure the City of Greeley's long-term future water security. The water wouldn't be needed/used until at least the year 2045 and would help save the city millions in water acquisition costs.
Project Specifics

The Terry Ranch Project would develop approximately 1.2 million acre-feet of non-tributary groundwater from an underground aquifer located in northwest Weld County. Today, the city of Greeley uses 25 acre-feet of water per year.
The water would be held and used as a source during future drought. Greeley would not even need to use the water until the year 2045.
Terry Ranch would also help the city store water during wet years to be used in dry years. Only treated water can be stored underground. Likewise, water would be treated again before being put into the Greeley drinking water supply.
Terry Ranch water will be drought proof, meaning the city would not lose several acre-feet a year to evaporation. It also would be protected from forest fires, which put high mountain water sources in peril every summer.
Testing has shown that the Terry Ranch water has some low-levels of naturally occurring uranium, which can easily be treated and removed. The city of Greeley does this every day with existing water sources.
In a pilot test, the city proved it could treat Terry Ranch water to nondetectable limits of uranium. Click here to read the results of the testing and pilot study
Terry Ranch will help the city keep water rates stable for residents. Click here to read the Master Purchase Agreement

History and Background
The City of Greeley has an extensive water system that includes two treatment plants, seven reservoirs, four river basins, and over five hundred miles of pipeline. These systems make up Greeley's reliable water supply.
Today, ensuring a reliable water supply in the face of anticipated population growth and the consequences of a variable climate requires the high level of investment in innovative thinking and strategic planning that has positioned Greeley to date.
The Terry Ranch aquifer was identified as a more environmentally friendly water storage option during the city's long-term strategic efforts to enlarge Milton Seaman Reservoir.
As part of permitting for the Milton Seaman Reservoir enlargement, Greeley is required by federal agencies to evaluate other, less environmentally damaging alternatives. It was during this continuous evaluation process that Terry Ranch was identified as an alternative solution.
Since 2003, the city sought to enlarge the existing Milton Seaman Reservoir. Enlarging this reservoir on the North Fork of the Cache La Poudre River requires a variety of federal, state, and county permits. The city has been engaged in the federal National Environmental Policy Act permitting process to allow the reservoir's expansion since 2006. Federal permitting has been a long, arduous, and expensive process, and final authorization is uncertain at best.
What's Next?
Before finalizing the purchase, Greeley conducted extensive testing and analysis, including drilling additional wells and collecting extensive water quality data. Critical analysis will be peer-reviewed, and the results of these studies will be available in early 2021. The Water and Sewer Board and Greeley City Council, with input from Greeley residents, will weigh results to decide whether to move forward with the purchase.