Terry Ranch Project
Greeley has a long history of investing in its water future. The foresight and diligence of past city leaders and water pioneers ensured Greeley continuously seeks opportunities to plan for, and secure, Greeley's water needs.
Join Us
Greeley's Water and Sewer leadership team invites the community to an informative conversation about the Terry Ranch project at 6 p.m. on Wednesday, Dec. 2. Join the online Zoom meeting at https://greeleygov.zoom.us/j/87661578272. City officials will give an overview of the project, followed by an open question and answer chat session with attendees. The meeting will be recorded and posted on this webpage.
Project Overview
The proposed Terry Ranch Water Project is an innovative water supply and storage project being considered and evaluated to help fulfill the water needs of Greeley's growing population. If ultimately determined feasible and approved by the City of Greeley Water Board and City Council, this generational project will be another step forward to ensure the City of Greeley's long-term future water security.
History and Background
The City of Greeley has an extensive water system that includes two treatment plants, seven reservoirs, four river basins, and over five hundred miles of pipeline. These systems make up Greeley's reliable water supply. Through diligent planning and foresight, Greeley has made many strategic investments to ensure the city is well-positioned for short and long-term water needs. Today, ensuring a reliable water supply in the face of anticipated population growth and the consequences of a variable climate requires the same level of investment in innovative thinking and strategic planning that has positioned Greeley to date.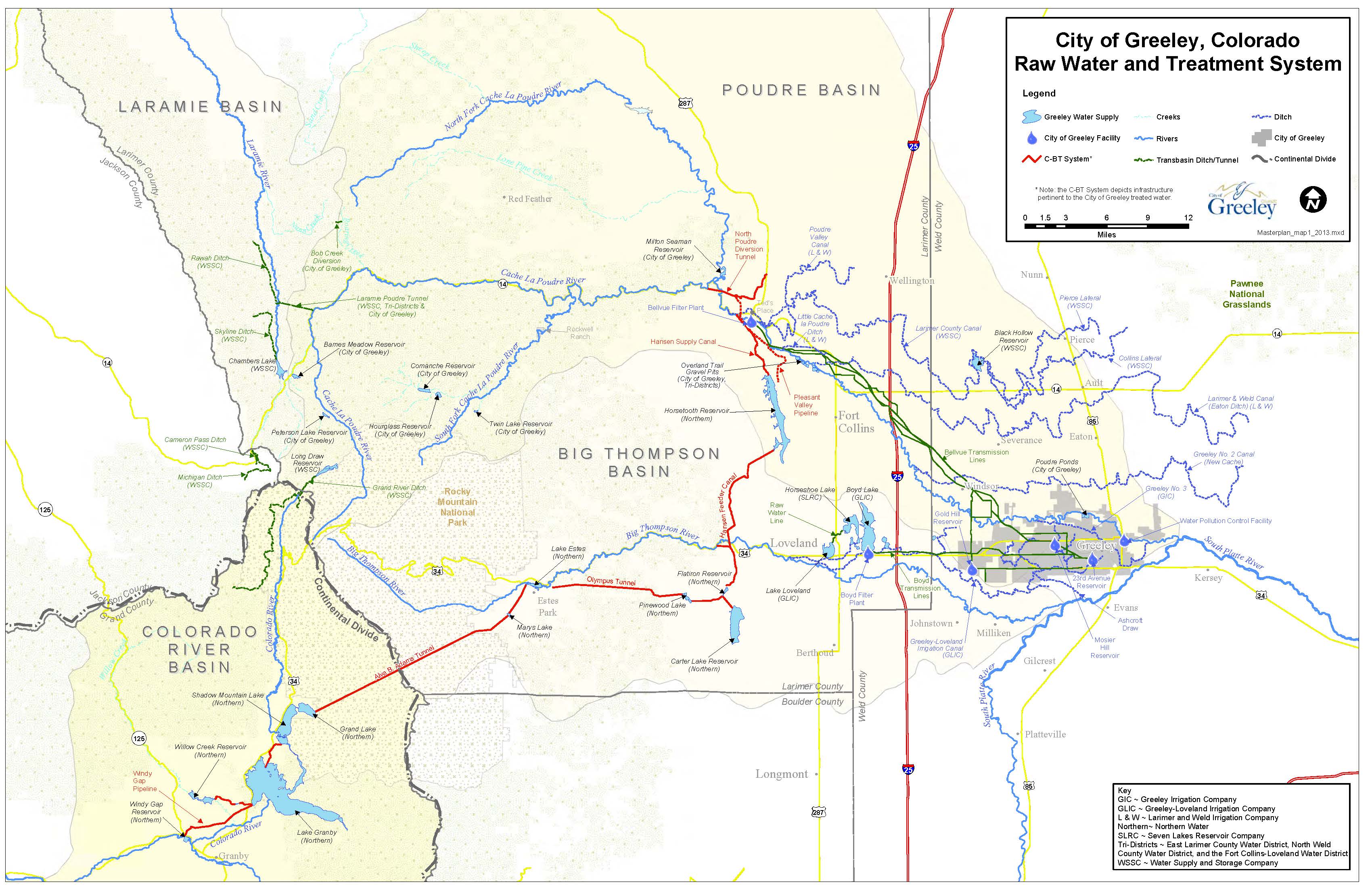 The Terry Ranch aquifer was identified as a viable water storage option during the city's long-term strategic efforts to enlarge Milton Seaman Reservoir. Since 2003, the city sought to enlarge the existing Milton Seaman Reservoir. Enlarging this reservoir on the North Fork of the Cache La Poudre River requires a variety of federal, state, and county permits. The city has been engaged in the federal National Environmental Policy Act permitting process to allow the reservoir's expansion since 2006. Federal permitting has been a long, arduous, and expensive process, and final authorization is uncertain.
As part of permitting for the Milton Seaman Reservoir enlargement, Greeley is required by federal agencies to evaluate other, less environmentally damaging alternatives. It was during this continuous evaluation process that Terry Ranch was identified as an alternative solution.
About the Terry Ranch Project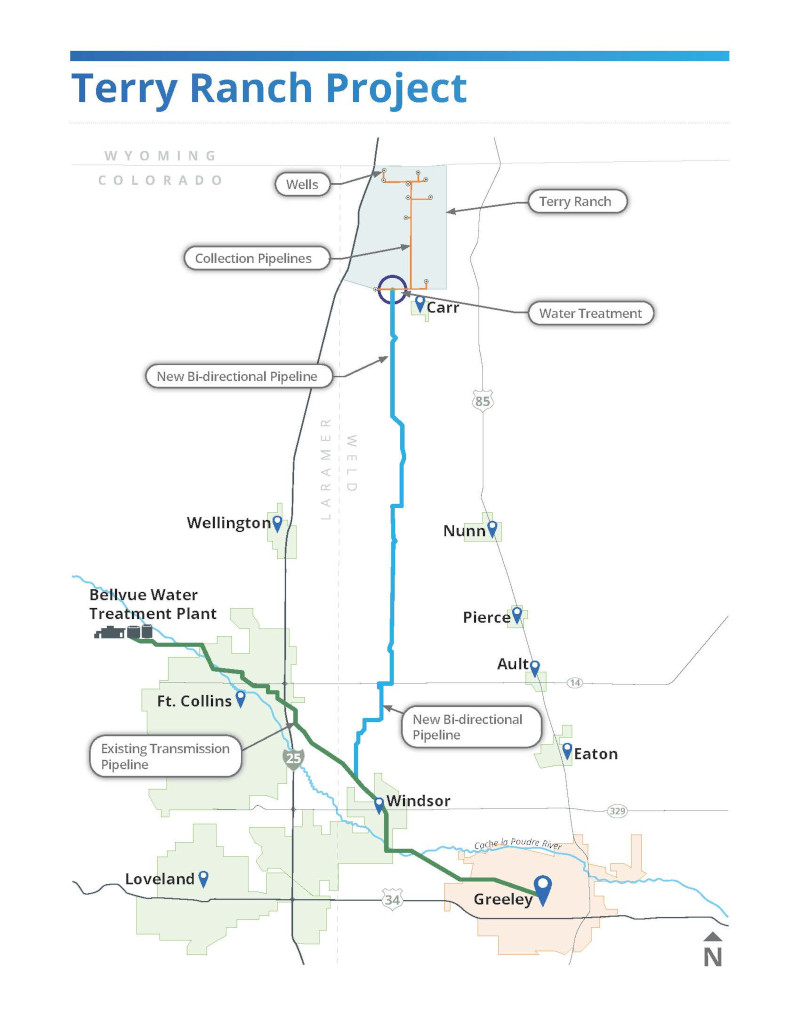 The Terry Ranch Project would develop approximately 1.2 million acre-feet of non-tributary groundwater from an underground aquifer located in northwest Weld County.
For comparison, the entire City of Greeley currently uses about 25,000 acre-feet per year. Non-tributary means this groundwater is not connected to surface streams and reservoirs and is instead solely an underground water source. Unlike most groundwater used in and around Greeley, non-tributary groundwater is deeper, and can be used and reused many times. The two sources, non-tributary (underground) and traditional above-ground sources (reservoirs), diversify the city's water supply and acquisition.
A key feature of the project will be the use of the aquifer to store treated surface water. Greeley would not pursue this project if it were to only extract a single use source of groundwater. Rather, the city's long-range plan is to inject and store water from surface sources underground for later use. The Terry Ranch aquifer is well suited for injection, and the State of Colorado has rules and regulations that guide this approach to aquifer storage and recovery (ASR). Additionally, the city can develop its use of the water and its capacity for recharge of the aquifer incrementally over time to match customer demands