What can be done to help local industry have a successful tomorrow?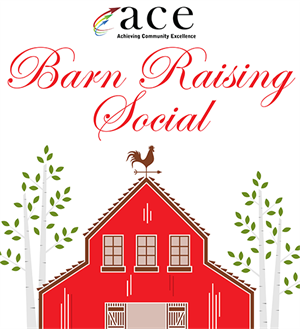 This is a defining time in Greeley's history. Greeley is changing like never before. The population, the geographic area, the face of downtown, the institutional makeup, and the all-encompassing culture of this city are transforming at a blistering pace. ACE believes that building a great community is first and foremost is a people-oriented endeavor. In order to support local industry, we must seek to understand our constituents and their aspirations.
ACE, along with our partners from the new Doubletree by Hilton Greeley at Lincoln Park, hosted three Barn Raising Socials to listen to the concerns of local industry partners by asking, "What keeps you up at night?" Approximately 150 people attended the three ACE events that were held in an actual barn, because of the barn, critical to the life of a farm, represents the one critical transaction that helps other activities happen. Guests were encouraged to talk about the critical issues that are necessary for the local industry to thrive.
What did we learn?
There will always be a need for analytics and hard data, but it will be the personalities and perspectives of those we encounter that will be our most relevant variables. A community that puts industry at the center and aligns education, workforce and economic development creates a stronger economy and provides a bigger opportunity for shaping industry for a successful future.
What did industry partners say?
Four themes clearly emerged from the business community:
Workforce – Lack of enough qualified workers and access to local talent
Housing – Lack of enough affordable housing to attract a larger workforce
Education – A disconnect exists between what schools are teaching and industry needs
Community Collaboration – Better relationships and clear communication between City leaders, industry, and schools
What are next steps?
We will cultivate alignments. There will be opportunities for us to align ourselves with others, and there will be opportunities for us to help others find alignments amongst themselves. Both activities are important. However, we must bear in mind that a perfect match in two human perspectives is as rare as a straight line in nature. Compromise is what breeds positive change – not a domination of will. We can never force someone's perspective to shift to the exact place where we want it to be. With regards to our own image, we can only realistically expect to draw someone's opinion away from the proverbial badlands of regulatory obstruction and into the greener pastures of intelligent advocacy and aligned principled relationships.

The question we must answer now is how should we apply ourselves to this process? How can we use our team's resources – our people and our capital – in a way that we can support our industry partners and help them thrive?

It was said that, "Success is the progressive realization of a worthy ideal." Our ideal – our beacon of success – is relational excellence. If you would like to be a part of the conversation, contact Bob Parry at parrycolorado@yahoo.com.