ACE Athletics was featured in the Winter 2017, City of Greeley Recreation Connection. Read the article below and check out the
Recreation Connection
for upcoming recreation classes, programs and more opportunities.
---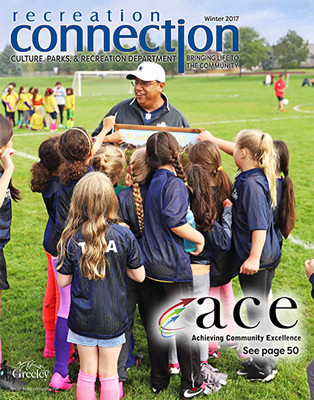 Greeley Recreation is committed to Achieving Community Excellence by embracing the ACE philosophy and incorporating it into our programs. Our staff believes in improving the lives of our patrons by utilizing this vehicle in our sports programs to help teach life principles and shape student athletes, parents and coaches.
ACE Athletics is an intentional Coaching the Coaches initiative that better equips and aligns current and future coaches at all phases of athletic competition from Recreation, Middle School, High School, Club and University levels, to focus on the values of virtuous competition to benefit Greeley's student athletes.
The ACE program exists to provide an opportunity for youth and young adults to learn the value of relationships and the power of belonging to a team where trust, integrity, perseverance and courage create the greatest possibility for the pursuit of excellence and enjoyment.
By guiding parents and guardians in support of their children through participating in extra-curricular activities, we can improve on the experience for our athletes. With positive parental support, participation will allow children to develop the necessary physical, social and emotional skills that will allow them to experience success through the entire process rather than simply measuring the end result.
Sports can be so much more than winning and losing. Teaching lifelong lessons about teamwork, strength and compassion are characteristics that our young athletes will be able to utilize and carry on throughout their lives.
By offering a positive experience for area youth, we can help shape and mold the adults of our future by paving their way towards success.
We hope that you will take advantage of the
coaching development
and parent opportunities to learn how to become positive mentors and supporters of the athletes involved in our programs. For more information, contact Dean Campos at 970-350-9415.